Chamberlain Garage Door Openers
Our Chamberlain Garage Door Opener History
Five Star Doors has been installing Chamberlain garage door openers for thirty years with great success in the Metro Detroit area. Most people are unaware, Chamberlain is also the manufacturer of LiftMaster and Craftsman brand of openers. Customers commonly ask "what is the difference between Chamberlain v. LiftMaster" and "Why do you sell Chamberlain and LiftMaster if there essentially the same."
Chamberlain V. LiftMaster
Liftmaster openers come with a 1 piece rail and with Chamberlain openers, the rail is in multiple pieces for box packaging. It's worth noting that a multiple piece rail does not affect performance or the life span of the opener. Other than that, with the exception of a couple of models they have the same internal parts/components
​Five Star Doors offers 3 Chamberlain models simply for the added value to homeowners like an extra remote or keyless entry pad. In addition there are numerous features available that the LiftMaster openers lack. Add in the fact that the 2 belt driven openers shown below are arguably the two best overall rated openers available to homeowners.
Why You Should Have Us Install Your Next Opener
1-1/4 HP Equivalent Ultra-Quiet Belt Drive Smart Garage Door Opener with Battery Backup
42 Votes 4.9/5.0 Rating
41 out of 42 or 98% would recommend Opener
Pros: Very Quite, High quality, Five Star Doors will program remotes, vehicles, and keypad if customer wishes. Express Installation available
The Belt Drive Chamberlain Garage Door Opener w/Battery Backup Available
This belt-driven Chamberlain 1-1/4 HP – Wi-Fi Garage Door Opener is reliable and features packed, including built-in Internet connectivity for those who want the ability to monitor and control their garage door from anywhere they can get online. There's also a backup battery, and the 1.25 motor is among the most powerful you can find in a residential opener.
One advantage of a belt-driven garage door opener is that they are much quieter than chain-driven models. The 1.25 HP motor is strong enough for just about any task, and while the extra horsepower won't provide more lifting capacity compared to 1/2 and 3/4 horsepower models, it means that the motor will strain less leading to longer life, quieter operation and better reliability.
The option to open the garage door from anywhere comes in handy when someone stops by to pick something up or drop anything off when not at home. The app allows homeowners to open and close the garage door remotely anywhere your smartphone or PC has an Internet connection. The Chamberlain 1-1/4 HPS Wifi Garage Door Opener with Battery Backup can also send notifications when the garage door is opened.
The option to customize the alerts and to get alerts on multiple devices is a huge benefit.
This is one of the most feature packed garage-door openers available. Although many Chamberlain garage door openers are Internet compatible using Chamberlain's MyQ technology, most require the purchase of an optional Internet gateway ($51.00) actually to connect to your home network. With the Chamberlain 1-1/4 HP, the gateway is built in. A battery back-up is another bonus. In the case of loss of power, it will open & close your garage door approximately 20 times Other features include safety sensors that will stop a closing door and reverse its motion if anything breaks its invisible beam, two multi function remotes, and a keyless entry pad.
Chamberlain Features
Remotes 2
Keyless Entry-Included Light Bulbs 2 (supplied by 5 Star Doors)
Multi-function wall control
Lifetime Warranty for the Motor and Drive, 5 Year Warranty for Parts and 1 Year Warranty for Accessories Oiling and Adjusting Included.
This MyQ Smart phone controlled garage door opener with built-in Wi-Fi gives you complete peace of mind by allowing you to monitor and control your garage door from anywhere
With Wi-Fi built-in, this opener connects directly to your home's Wi-Fi network to provide smartphone control and no additional hardware is required
The battery backup feature allows for normal use of the garage door opener even when the power is out
The extra-powerful motor is perfect for very frequent use and the durable, ultra-quiet Whisper Belt Drive is ideal when the garage is located near a bedroom or living area
Includes two 3-Button remotes, wireless keypad and safety sensors
Also includes a convenient wall control with an LCD display for time, temperature, and diagnostic information
HomeLink® compatible – works with HomeLink buttons built into most cars
Chamberlain Garage Door Opener 0.5 HP Belt Drive with Built-In WiFi
72 Votes 4.8/5.0 Rating
67 out of 72 or 94% would recommend Opener
Pros: Durable, High quality, Free Keypad
Extra's Supplied By Five Star Doors
Chamberlain Garage Door Opener - 0.5 HP Belt Drive with Built-In WiFi
Garage doors are generally out of sight out of mind until they're being opened or closed, and it wakes a family member out of a sound sleep.
The Belt Drive, Chamberlain Garage Door Opener doesn't get rid of the track noise, but its motor operates at a whisper. That's incredible for any opener, but particularly for this garage door opener because its durable .50 HP motor is strong enough to lift garage doors up to 300 Lbs
The Belt Drive on the Chamberlain Garage Door Opener operates so quietly because it's belt driven with wound steel cabling. Features include the following:
Control module with large on/off button and 150-degree motion sensing range
Outdoor keypad with flip-down cover
Two remotes
Pro-Safety, Anti-Theft
The safety features of the Chamberlain Belt Drive Garage Door Opener are precisely what you want in an automatic garage door opener which is safety. An infrared sensor beam on the Rapid-Snap Safety Sensor Brackets reverses the door when anything is in its path and stops it automatically if a person or object touches the door.
The Chamberlain 1/2 HP Belt Drive also protects against theft and hackers. Its Security +2.0 technology offers Posi-Lock protection to keep the garage door safely locked when closed. Plus, every time you use the outdoor wireless keypad, it changes its internal operating code so hackers can't access it.
We offer Four of Chamberlain's most popular models plus a full line of LiftMaster openers, ready for express installation. Compare Five Star Doors opener package against Lowes, Home Depot or Sears. Chamberlain or LiftMaster – Chain Drive or Belt Drive, Five Star Doors has your opener
Chamberlain Features
Remotes 2
Keyless Entry-Included (supplied by Five Star Doors)
Light Bulbs 2 (supplied by Five Star Doors)
Multi-function wall control
Warranty Lifetime motor 1 yrs parts
Labor Warranty
8 foot tall doors add $61.00
Garage Door Opener comes with Chamberlains built-in MyQ technology to keep you informed and secure. With the Myq app, you can open, and close the door from anywhere as well as check the status of your door with a smartphone or tablet device.
Sturdy Belt Drive – Steel-reinforced belt drive, constructed with high-grade materials for years of worry-free, long lasting, ultra quiet operation—perfect for homes with rooms over or behind the garage
Powered by Chamberlain's MED Lift Power System™, the B550 delivers lifting force equivalent to 1/2 HP, the highest lifting capacity compared to other 1/2 HP models to provide easy lifting and reliability.
Trusted Safety and Security – Unmatched Security+2.0® 100 Billion code encryption protects against hacking, and Posilock™ anti-theft protection assures that once the door closes, it stays locked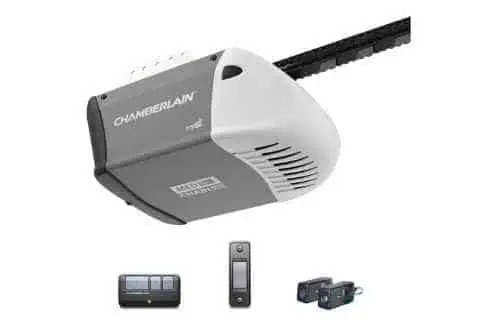 Chamberlain Garage Door Opener. 1/2 HP Power Drive Chain
56 Votes 4.7/5.0 Rating
53 out of 56 or 92% would recommend Opener
Pros: Durable, High quality, extra remote
Extra's Supplied By Five Star Doors
Chamberlain Features 
0.5-HP Chain Drive Garage Door Opener
Remotes 1 "No Keypad Included"
Light Bulbs  (1) Supplied by Five Star Doors
Single Button wall-control 
Warranty "Motor" 6 year limited, "Parts" 1 year parts 
Labor Warranty
HomeLink® compatible – works with the HomeLink buttons built into most cars
Delivers 60 watts of light CFL compatible 
Rugged 1/2 HP DC motor with chain drive for reliable, steady performance
Patented security plus 2.0 rolling code technologies along with multi-frequency transmitters help eliminate interference, providing consistent performance over a long range. 
Five Star Doors warranty plans can be transferred with the product. Product failure within first year, if opener cannot be repaired, Five Star Doors will replace with same or equable model
Available Chamberlain Garage Door Opener Accessories (not applicable to all opener models)
Replacement back-up battery – $44.00 
Internet Gateway for MyQ – $58.00 
Extra remote for 315 freq models – $44.00 
Extra remote for MyQ models – $44.00 
Keychain remote 315 freq. and MyQ models – $48.00 
Repeater for MyQ models – $54.00 
Emergency disconnect – $38.00
Supplying power to the opener is the responsibility of the homeowner 
Pricing is based on a standard installation. Additional work is extra. 
Garage must be free of obstacles preventing an unsafe installation. 
Garages with no entry door access must have a working Emergency Disconnect. 
If there's no Emergency Disconnect that's present or not working,an Emergency Disconnect must be purchased. 
MyQ remotes my not program with all vehicles. Vehicles with homelink programming must be 2010 and newer to use MYQ 
Vehicles with Car2U require a repeater purchased through Car2U for MYQ remotes 
Information can be found in vehicles owners manual 
Five Star Doors does not guarantee a cars programming will be successful. A repeater maybe required.  Call for details
Chamberlain Garage Door Opener Reviews
Chamberlain Garage Door Opener, West Bloomfield, MI – 5/5 stars
"The garage door opener installer, Robert was terrific, and he answered every question I had! The opener cost was lower than Home Depot, or Lowes offered, and the job completed within 30 minutes. Robert even gave me an extra garage door remote so that I can use it on my other rental properties." Greg W. West Bloomfield, Michigan
Service/Showroom/Parts Hours
Mon - Fri 8:00 AM - 5:00 PM
Saturday 9:00 AM - 3:00 PM
Closed Sundays
Residential Building Contractor License: 2101216938
32620 Grand River Avenue, Farmington, MI 48336 USA