Michigan's Most Trusted Garage Door Cable Repair
Professional Technicians, On-Time, Polite & Helpful
We Repair All Residential Garage Door Broken Cables
Best Cable, Opener, Rollers, Trim & Door Off Track Repair Available
Garage Door Cable Replacement Since 1990
Five Star Doors has been providing garage door cable replacement on Michigan homes for thirty years. If you have a broken garage door cable call us today before the broken garage door cable causes the door to come off it tracks and create a safety hazard. Our service technicians are very good in all aspects of garage door and opener repair. We as all door repair companies should do, provide you an over the phone estimate based on your understanding what type of door you have. We don't have any trip fees and we don't pressure or upsell any product or service. We have serviced over 100,000 homes in Metro Detroit and for over thirty  years continue to be the overall best rated garage door cable repair company.
Why Do I Need Garage Door Cable Replacement
Is The Bottom Of Your Door Higher On One Side Over The Other? Garage doors that operate with torsion springs, the cables are basically the glue that ties the system together. Cables run from the bottom of each side of your door attached to a bracket. Above the door, the cables are attached by two drums. When the door is opened/closed the cables wind/unwind from the drums.
If you have a broken cable, the door will most likely tilt to one side. Trying to open and/or close the door may lead to your door coming off it's track(s) and may lead to serious injury or property damage
Garage Door Cable Replacement- Is the Cable Loose or Broken?
Garage Door Cable Came Off
On single doors with only one torsion spring, a broken spring will eliminate 100% of the garage door opener cable tension. This may result in the door falling hard to the ground, therefore, unwinding the cables in the process. Since broken torsion springs are the most common garage door repair, it is also the most frequent cause of cables coming off their drums. At Five Star Doors, our policy is if a door has only one spring we add a second spring that way if one spring snaps, the remaining spring can support the door until it can be replaced. This eliminates any chance of the door damaging or someone getting hurt by the door free falling to the ground. 
Following a close second, the door closing on items left in the path as the garage door closes. For example, a broom handle stuck in the door track that avoids the opener sensors sending the door in reverse causing the cable to slip or bounce off the cable drum. 
For One reason or another six out of ten garage doors, we come across are out of balance from having the incorrect size springs on the door. Creating a safety hazard, shortening the life of the opener and possibly causing the cable to slip off the drum. 
​The prior company installs springs engineered to lift a 210lb. door but the door only weighs 170 Lbs. The door is 40lbs out of balance and is too light. To compensate, the technician would reduce the number of spring winds. By decreasing spring winds it will keep the door closed, but now there are not enough spring winds to keep sufficient cable tension on the drums, and may result in the cable(s) coming off the drums.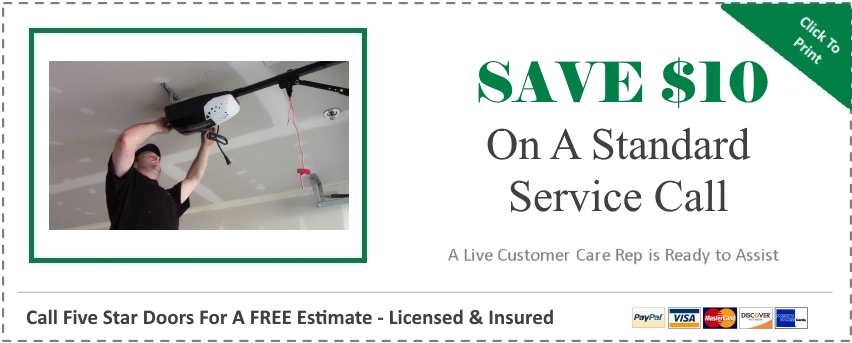 Garage Door cables are exposed to moisture and cold weather in many Michigan garages and tend to rust or fray easily and then snap. Five Star Doors uses Aircraft rated galvanized steel garage door cables for either torsion spring, or extension spring systems. 
Five Additional Reasons To Call Five Star Doors
Why Choose Us For Your Next Garage Door Cable Replacement
We want you to feel comfortable that you've chosen the best garage door cable replacement company that strives to be the best. Scroll down to view the most recently submitted reviews.
We take the replacement of  a garage door broken cable very seriously and always have the homeowner & family best interest & safety in mind. We use top quality parts from Service Spring Co.
We personally answer all calls & will work with you to accommodate your busy schedule. We have the best trained, competent, door – opener installation & repair specialists in the industry.
Service includes: A 20-Point Safety Inspection, Lubricated, Parts Tightened Where Appropriate. Suggestions That Will Improve & Extend The Life Of Your Garage Door System for about 1/2 the cost of our closest competition. CLICK HERE for current specials
Garage Door Cable Replacement Reviews
Broken Cable On Garage Door, Bloomfield, MI – 5/5 Stars; The garage door came off the left door track. I suspect because my garage door cable came off. Five Star Doors treated me VERY good! Steve W. Bloomfield Hills
Garage Cable Replacement, Ann Arbor, MI – 5/5 Stars; First rate service –Cable replacement cost was good, about $75 less than the other two I called. I highly recommend 5 Star Doors. Barb P.
Garage Door Cable Service, MI – 4.8/5 Stars; "Thank you for your prompt & professional service fixing my broken cable and door." Harvey F. Canton, MI
Garage Door Cable Off One Side, Livonia, MI – 5/5 Stars; The broken garage door cable was efficiently replaced and I was thoroughly pleased with the service. Shiri, Livonia, MI
Overhead Door Cable Service, Auburn Hills, MI – 5/5 Stars; Great job! In & out quickly. Two new cables and now the door works great! Paul L. Auburn Hills
One Garage Door Cable Loose, Harper Woods, MI – 5/5 Stars; Replacing two garage door cables was fast and reasonably priced. Tyler was great! Laura, Harper Woods
Rolling Door Cable Specialist, Warren, MI – 5/5 STARS – Spectacular job fixing the door and cable replacement — I even received advice on ongoing, simple maintenance on the door and the opener. Joe M. Warren
Garage Cable Service, Utica, MI – 5 /5 STARS – Extremely courteous, knowledgeable, and professional garage cable service. I would call them again. Evan S. 
Garage Door Broken Cable, Ypsilanti, MI – 5/5 Stars; He completed the garage door opener cable fix quickly, with the highest level of professionalism. Al H.
Garage Door Cable Loose, MI – 5/5 Stars; Excellent Company. Great Service. On time as promised. Cable was fixed at a good cost with Zero issues." Emily F. Belleville, MI
Garage Door Cable Drum Replacement, Southfield, MI – 5/5 Stars; Service was great! Explained thoroughly what happened to my garage door cable and why it needed to be replaced. Debbie T. Southfield
Broken Cable On Garage Door, Plymouth, MI – 5/5 Stars; I will be recommending this business. You guys are truly Five Star! Jeff L. Plymouth
Carriage Door Cable Maintenance, Birmingham, MI – 5/5 Stars; Fast cable repair, very friendly and knowledgeable, good fair price! Barry, B.
Sectional Door Cable Service, Roseville, MI – 5/5 Stars; Excellent service. Andrew fixed a problem with a loose garage door cable I didn't know I had! One of the few remaining sectional door cable companies." David S. Roseville
Garage Door Balance Cable, Sterling Heights, MI – 5 STARS – I already referred them to one of my neighbors, who were also pleased with the work done. Patty B.
My Garage Door Cable Came Off, Warren, MI – 5/5 STARS – Door works better than it ever did. I would use them again! Daniel B.
Services/Showroom/Parts Hours
Mon - Fri 8:00 AM - 5:00 PM
Saturday 9:00 AM - 3:00 PM Closed Sundays
Residential Building Contractor License: 2101216938
32620 Grand River Avenue, Farmington, MI 48336 USA