Garage Door Struts "U Bar" Connector Kit
Stronger than 1 Piece traditional Strut
Connector made of 22 ga. galvanized steel
Available for 8′, 9′, and 16′ – 20′ Garage Doors
Tek screws Included For Connector
1″ TEK Screws Included For Installation
FREE Facetime Support For Assembly Or Installation
FREE SHIPPING
Why Doors Need Garage Door Struts
Garage door struts stiffen sections of the door to prevent them from bending or breaking. Struts help make each section/panel rigid so the door will open and close smoothly. If the sections are not rigid, your garage door will bend as it opens and closes
For years, we have been installing (2) two struts on every new door we install. The additional strut makes a huge difference in extending the door's life, the opener, and the door parts. The door cycles are smoother and less noisy. All garage doors with an opener should have a strut across the top panel. Otherwise, the torque created by the J-Bar can eventually tear the top panel.
Preventing wind damage Adding several struts to a door located in an area frequently under threat of hurricanes is never a bad idea. Before adding multiple struts, always check the weight of your door.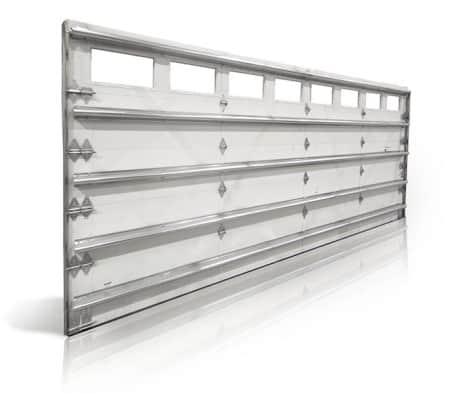 Preventing wind damage Adding several struts to a door located in an area frequently under threat of hurricanes is never a bad idea. 
Damage from a broken spring or cable. In this case, the door may tilt to one side or another. As the opener tries to lift or close, the panels twist ever so slightly until they eventually buckle.
Physical Damage Human error, car runs into or backs into second or third door panels from the floor. Many door panels are hard to get for many doors, and if there is one available, it can be an expensive repair.
what are my Garage Door strut options?
We have seen some creative options over the years, from 2 x 4's to hockey sticks. One D.I.Y. recommended Perforated angle iron on a YouTube video. Many people see an easy, cheap fix as the best solution only to discover it's only slowed the problem down. You may think, "of course they're not gonna recommend perforated angle because it hurts their sales" The truth is the majority of our sales are to customers who tried angle iron and realized it did more harm than good. Ask yourself, if perforated angle iron worked, why do "No" door manufacturers use it or recommend using it? Yet, there are people gullible enough to think if it works for them, it will work for me.
When a door opens and closes, the door panels twist ever so slightly from the torque the opener and j-bar create on the door panels. Over time, the twisting back and forth will bend or cause the panels to crack. If the door is out of balance or has broken rollers, spring, or a broken cable, the strut will help protect the door panel.
Viable Garage Door Strut Opions
To extend the life of your door, a 22 gauge or thicker galvanized steel strut is your best option. You can contact a local professional garage door repair company and have them install a one-piece 16 or 18-foot long strut. The price will range from $200 to $400 depending on who you call. If you have a Menards close by and the means to get a 16-foot strut home safely, that is an option. If you have a power drill, this is a relatively easy D.I.Y. job. For around $100, you can extend the life of your garage door for several years.
A Tip Every Homeowner Should Know
Before purchasing a strut, it's a good idea to know if your door can handle the additional weight of one or two struts. A common bathroom scale will provide you the answer.
Disengage the opener by pulling the red cord

Manually lower the door onto a bathroom scale
If the scale reads 20 pounds or more, your door is out of balance
If the door rests above the scale (doesn't touch) adding a strut may restore door balance.
Know the dangers of a door that is out of balance on the heavy or light side by visiting out spring page
Most frequent questions and answers
You can also ask questions 24/7 by accessing our chat system on our online store
A. Home Depot and Lowes do not sell anything over 10′ long in their stores. You can contact local garage door repair companies and ask if they will sell you a 16′ strut. The cost is usually $80 – $100. To have it installed $200 to $400. The most extended item you can ship UPS at a relatively inexpensive cost is 96 inches. We offer two and three-piece strut conversion kits that have been tested and proven to be stronger than a standard 16′ strut.
A. Using anything other than a Strut engineered specifically for garage doors is a recipe for disaster. A popular choice for Do it yourselfer's is Home Depot's10 ft. 12-Gauge Half Slotted Metal Framing Strut Channel. The negative, it adds  17 pounds to the overall door weight and could shorten the life of your opener and springs 
A. 7/16 is the universal size on all American made garage doors. Therefore you will need a 7/16 driver bit to remove the screws from the top bracket to install your brackets underneath the Strut and reuse the screws.
 Use our online chat on our store page for general questions or our contact form Or call the main number @ 248-827-0933  Customers who have purchased one of our 4 strut kits can schedule a facetime session with one of our techs to walk you through assembly or installation
Service/Showroom/Parts Hours
Mon - Fri 8:00 AM - 5:00 PM
Saturday 9:00 AM - 3:00 PM Closed Sundays
Residential Building Contractor License: 2101216938
32620 Grand River Avenue, Farmington, MI 48336 USA