wayne dalton garage door spring replacement
The Wayne Dalton Torquemaster system was developed to improve on the traditional torsion spring system. The spring bar/torsion tube remains  The spring bar/torsion tube remains mounted on the header above the garage door like any standard system. However, the TorqueMaster system hides the springs within the spring bar/torsion tube. The weight of the garage door will determine the number of springs needed.
wayne dalton spring replacement
The Torquemaster system also utilizes small plastic drums mounted on each end of the spring bar/torsion tube. Each cable wraps around the plastic drums and connects to the bottom door bracket. With the Torquemaster design, the springs provide the capability to counterbalance the weight of the door leaving the cables and drums to lift and lower the door.
wayne dalton Torquemaster Pro's & Cons
Garage Torsion springs are subject to natures elements in most garages, our Michigan winters, and moisture from humidity have an impact on the life span of the spring. The Torquemaster system has no exposed springs coils or drums, just one single galvanized tube that creates a finished display and protects from moisture.
The drawback of an enclosed system is unless you hear the spring snap "loud bang" it's hard to tell if the spring is good or bad. A broken spring will cause the door opener to lift the full weight of the door. This will shorten the life of your door opener if nor replaced.
wayne dalton spring replacement Or Spring Conversion
Five Star Doors has Two options available for homeowners with a Wayne Dalton garage door. There is no right or wrong solution. It's a matter of preference. Both options offer a similar cycle life span.
Option One, we can replace your broken torquemaster springs with genuine Wayne Dalton parts. Save $50 Click Here
Option Two, convert your Wayne Dalton torquemaster system to a traditional torsion spring. The conventional torsion spring will cost less in the long run than the Torquemaster system. The conversion cost is slightly higher than the Torquemaster replacement. But future spring replacements will cost substantially less.
Spring System Conversion Package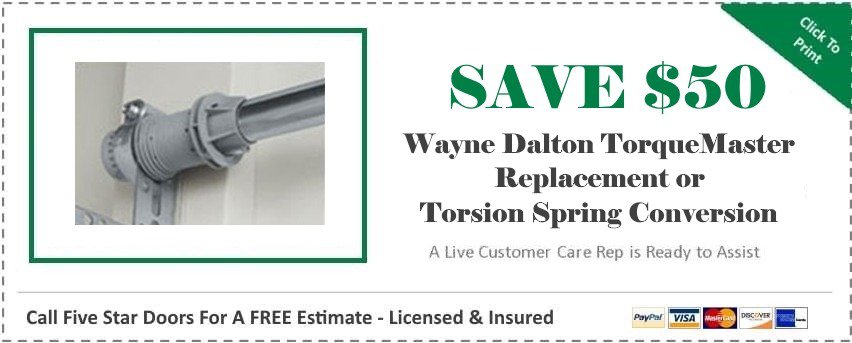 We want you to feel comfortable that you've chosen the best quality garage door repair company that strives to be the best. Scroll down to view the most recently submitted reviews.
We take the repair and replacement of door & opener parts very seriously and always have the homeowner & family best interest & safety in mind.
We personally answer all calls & will work with you to accommodate your busy schedule. We have the best trained, competent, door – opener installation & repair specialists in the industry.
Service includes: A 20-Point Safety Inspection, Lubricated, Parts Tightened Where Appropriate. Suggestions That Will Improve & Extend The Life Of Your Garage Door System for about 1/2 the cost of our closest competition
Service/Showroom/Parts Hours
Mon - Fri 8:00 AM - 5:00 PM
Saturday 9:00 AM - 3:00 PM Closed Sundays
Residential Building Contractor License: 2101216938
32620 Grand River Avenue, Farmington, MI 48336 USA